Gifted and Talented
As a school one of our main priorities is to continually identify groups of children who may need a more individualised approach to their learning, so that we can tailor our teaching and learning to suit the needs of the pupils. Children who are gifted and talented fall into this category. Effective planning will be put in place for these children which is differentiated and will extend the learning of those who are able, gifted and talented.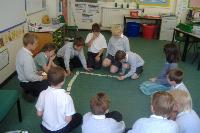 We believe very child should be given the opportunity to reach their potential though activities that offer scope for extension and challenge. Open ended tasks, including enquiry and investigations are available in all subject areas.
At Hart Plain we have identified the top 5% of children in each curriculum subject as being gifted and talented. This is the top 5% of each year group at our school and is not based on a comparison with children in other years groups or schools. When selecting the top 5% of each year group, a variety of criteria have been used including analysis of test scores, subject checklists, teacher assessments and information given by parents. We keep records and evidence to support our judgements and these are passed to the next teacher or to the next school when transferring from the Key Stage.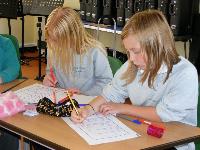 Definition:
The Department for Education and Skills define gifted and talented children as: "Those who have one or more abilities developed to a level significantly ahead of their year group (or with the potential to develop these abilities)."

In line with current DfES definition and terminology:
Gifted: refers to academic ability in one or more subjects in the statutory school curriculum other than art, music, PE.
Talented: refers to ability in art, music, PE, or any sport or creative art.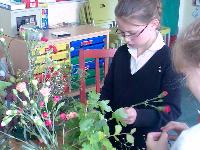 Over the past year we have worked hard to provide gifted and talented children with a rich variety of activities outside of the classroom in order to broaden their experience and also to give them a chance to mix with other like-minded children. Opportunities have included taking part in the Crookhorn Annual Maths Olympiad, the Newshound Competition, gifted and talented workshops run by the school and county athletics competitions.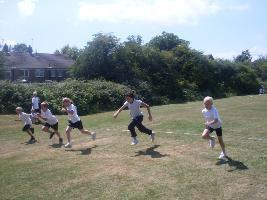 If you would like more information on the provision provided for gifted and talented children, please make an appointment with the Gifted and Talented Coordinator who will be pleased to answer any questions.
Please go to the Galleries section of the website to see more pictures of the activities attended by gifted and talented children at Hart Plain.