Wellbeing Support for Staff
Primary school staff juggle a multitude of different tasks and demands, so it's really important that we are given the right emotional and practical support.
The resources below are particularly useful for teachers, support staff and others working in primary schools, offering information, advice and practical resources to better understand and promote mental health and wellbeing in schools.
When we have good levels of wellbeing, we feel that life is in balance and that we can deal effectively with daily troubles, as well as bounce back from life's challenges. Positive staff wellbeing can increase productivity and engagement, improve people's job satisfaction, and help to reduce absence from work and it means that staff are better able, in turn, to support their pupils.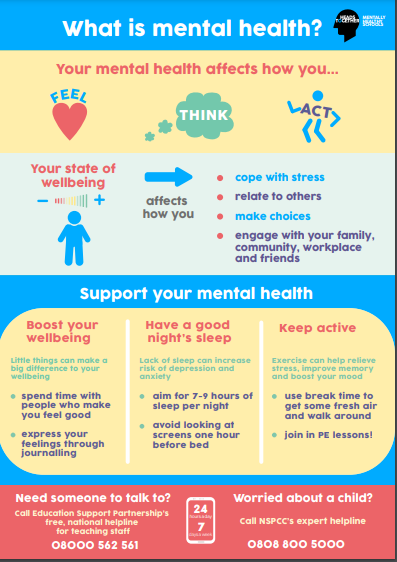 Education Support provides a free, confidential helpline for all teachers, lecturers and staff in England, Wales and Scotland. It's available all day, every day.
Address your stress with Mental Health First Aid England. This toolkit full of tips, advice and tools to help you reduce the impact of stress on your wellbeing at work.
If you're having a tough week and lots of worries are building up, it can be difficult to cope. This simple activity from YoungMinds encourages school staff to think about the things that help get them through.
Good staff wellbeing is essential in education, and means that staff are better able, in turn, to support their pupils. This page from Mentally Healthy Schools has information, advice and links to quality-assured resources that can help.
Making simple changes in your life can make a big difference to your mental health. Find practical things you can do to take care of yourself and help get the most from life.

Hampshire County Council provide support for employees. The school subscribes to the Heath Assured Employee Assistance Programme.
https://www.hants.gov.uk/educationandlearning/schools-resilience